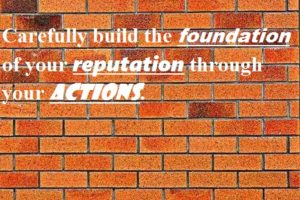 Your reputation is a riddle; It is guaranteed to always arrive before you do, and stay after you leave. Knowing this fact can help set you apart from the crowd. Your reputation will serve as your introduction, it will set expectations for those you meet, it will remind others of your demonstrated abilities. In many ways it's your spokesperson, and you want your spokesperson to have wonderful things to say about you. Therefore, you must carefully build the foundation of your reputation through your actions.
"You can't build a reputation on what you are going to do."– Henry Ford
Delivering what matters. Not everything has to be done; just the important stuff. Identify which actions make the most difference to the company, project, team and you – then put your energy into accomplishing those.
"You earn a reputation by trying to do hard things well."– Jeff Bezos
Every day. Start each day with a picture of success in your mind – for that day. Break down your goals into what you can do today and do that every day. Make success a habit.
"Repetition makes reputation."– Elizabeth Arden
Will pave the way. This is what opens doors, gets invitations, and garners resources. Delivering what matters every day is the foundation for your reputation.
"There is no advertisement as powerful as a positive reputation traveling fast." – Brian Koslow